Services
Photography, interviews, copywriting, editing, exhibition event, social media, PR
Jacqueline Arias, Fair Trade Founder & Director of República Organic, featured in our limited edition custom publication 'The Spark – Volume One'.  This publication explored the theme of catalysts for different entrepreneurs that have set them on their path to great achievements.
'The Spark – Volume One' also featured: Terri Janke (Terri Janke & Company Pty Ltd), Sergei Sergienko (Edway Training), Ronni Kahn (OzHarvest), Richard Maegraith, Lindy Chen (China Direct Sourcing), Kimberly Vucurovic, Karl Schlothauer (The Pocket Group), Ian Parkin, Eloise Wellings (Love Mercy Foundation), David Austen (Austen Brothers) and Chris Burgess (Mailplus).
Works from 'The Spark – Volume One' publication and exhibition have been featured by numerous Australian media including the Sun Herald (NSW), Fairfax Regional Media, Coffs Coast Focus Magazine, Coffs Coast Radio, 2SER Community Radio, Cronulla Magazine and FX Medicine magazine, as well as the company websites of different personalities we have profiled.
All profits from sales were donated to the nominated charities: Coffee Kids, Love Mercy Foundation, OzHarvest & WorldShare.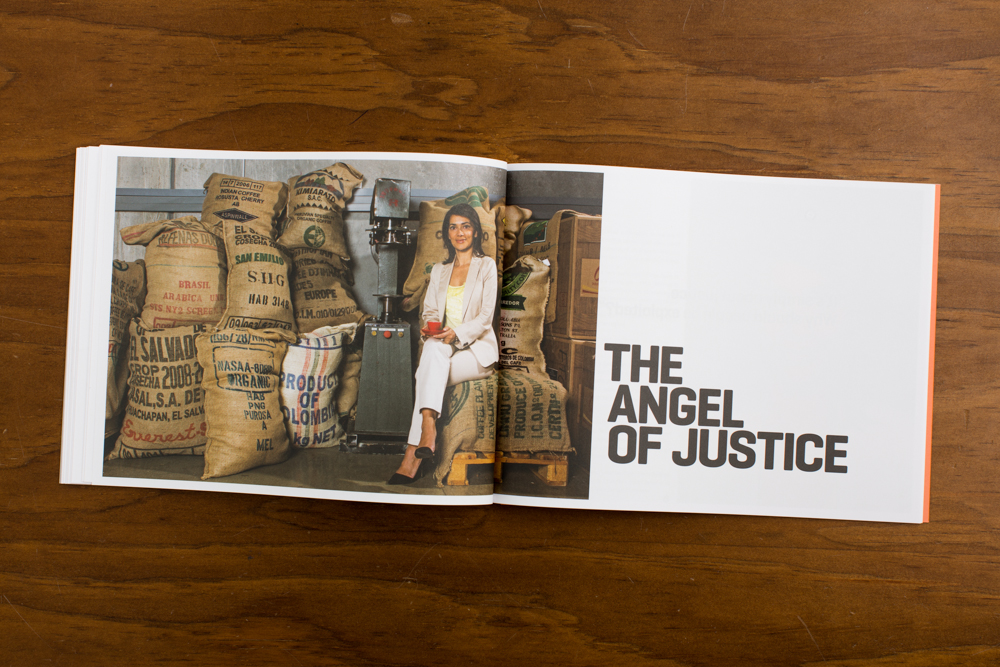 THE ANGEL OF JUSTICE 
"It's simply about justice.  Why should people be exploited?"
Coffee is the second most traded commodity in the world after oil.
Unfortunately, most coffee comes from third world countries where there is no social welfare, no drought relief and in many cases no payment to the farmers who grow it.
I understood injustice from a very early age. I was born in Colombia and lived in Chile as a young girl – both third world countries. As a young child in Colombia I was surrounded by stories about poverty, coffee farmers and how they could only afford life basics during harvest time. I remember many times marching on the streets in Chile with my parents for workers' rights, womens' rights and human rights.
At 6 years of age I moved with my family from Chile to Australia – a different world. When I grew up I worked as a journalist for the ABC, giving a voice to those people who don't have a voice. I've always felt very connected to the underprivileged; to the underdog. I always hoped that one day I could also provide a way for people to connect directly with farmers in the third world to ensure they are paid fairly.
Upon travelling back to Colombia for a holiday with my husband and children, I realized nothing had changed for the farmers in all those years. They were still being paid very little, if anything, for some of the best tasting coffee beans on the planet – exported to countries like Australia and the US. We're all human beings. It doesn't matter if you live in Sydney, Colombia, Paris, Mexico, Timor or Ethiopia – we all deserve to live a life in dignity and be paid fairly for our day's work. 
Jacqueline Arias
Fair Trade Founder & Director
República Organic Sydney, Australia 
Jacqueline Arias followed her passion and stayed true to her ethics by launching fair trade company República Coffee in 2006. Growing up in Colombia and Chile, Jacqueline was introduced to the rich aroma of coffee at an early age – as well as the poor farmers who grow the coffee beans.
Upon returning to Australia from a family trip in Colombia, Jacqueline started República to ensure thousands of coffee farmers in developing nations are paid fairly for their work, care and expertise. In return República receives the pick of their crops. Every premium República coffee and chocolate product is 100% fair trade, organic and carbon neutral (República is officially the first food brand in Australia to be certified carbon neutral by the Australian Government).
With national distribution through Coles and Woolworths supermarkets, República won the inaugural City of Sydney Business Awards Fairtrade Category in 2009 and made the coveted Smart50 List as one of the fastest and most innovative companies in Australia in 2012. 
Originally published in 'The Spark – Volume One', a limited edition custom publication.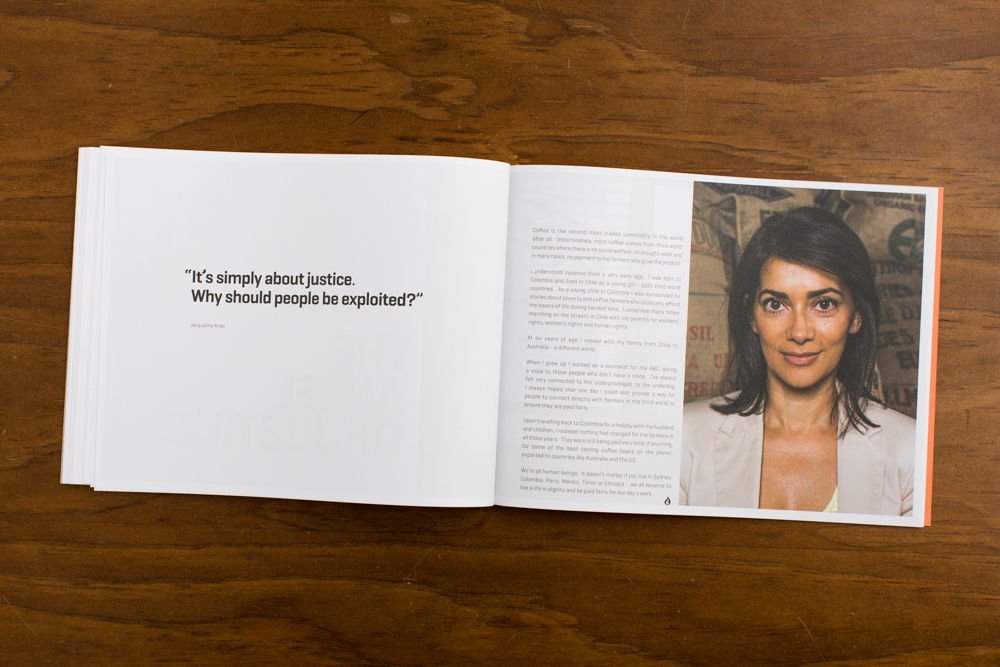 "Absolutely love the book & concept! The book's design and texture is beautiful. And the concept – inspiring.  We opened one up carefully to drool over it.  Now it takes pride of place on the boardroom table!" 
– Po-Tien Goh
Sales and Marketing Executive